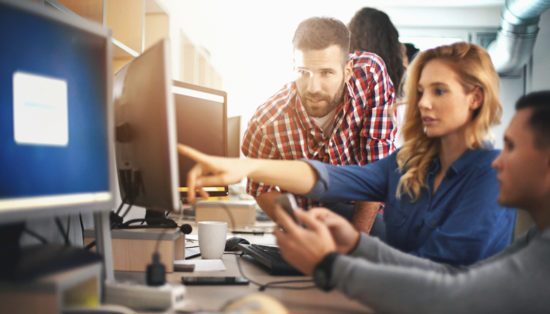 We are now looking for full-time reinforcement for the Data Business unit at our Bonn office.
Are you looking for a working environment that is characterized by highly qualified employees, individual training, flat hierarchies and excellence?
Do you want to drive the digital transformation of our customers in exciting IT projects?
And do you have a desire for learning?
Then become part of our team!
Your role
As a technology expert, you will take responsibility for the conception, architecture and development of digitization solutions, especially in the early  phases of projects (scoping, MVP development)
In the role of a digitalization consultant, you will assist with process analysis and solution finding by interacting directly with key stakeholders and users of our customers
You will work in cross-functional teams on implementing and designing transformation processes at customer sites
In addition to managing the technical aspects of projects, you will take responsibility for communicating with and supporting customers by making the most of your expertise in customer and project acquisition
What we offer
Homeworking, compensatory time off and state-of-the-art workplaces are part and parcel of how we work.
A large degree of freedom to act on your own initiative and to develop and implement your own ideas in order to play an active role in shaping your immediate working environment and the company.
A strong corporate culture of innovation and a wide range of opportunities for personal development and training.
An open and friendly corporate culture with friendly and helpful colleagues.
Short, personal and efficient communication channels at management and board level ensure fast and efficient work
Your qualifications
You should have several years of relevant practical experience in software development, ideally in the fields of digitalization, IT or artificial intelligence
You should have practical experience as a full-stack developer in the interaction of databases (SQL, MongoDB) and web applications (e.g. Vue. js, Plotly, REST API's)
You should know how to get solutions up and running quickly with Docker and according to CI/CD
You should have a very good technical and analytical understanding of several of the following digitization technologies: Data Science, Artificial Intelligence, IT Architecture or Business Intelligence
You should have experience in planning and implementing digitization projects, ideally in agile mode
You should be able to work successfully both independently as well as in a team and have the ability to structure complex questions and problems, to get to the bottom of them through analysis and to present them in an understandable way
You should be able to communicate convincingly and efficiently in German and English – including with executives at the highest level – and enjoy giving presentations
You should have the flexibility and mobility necessary in a consulting environment.