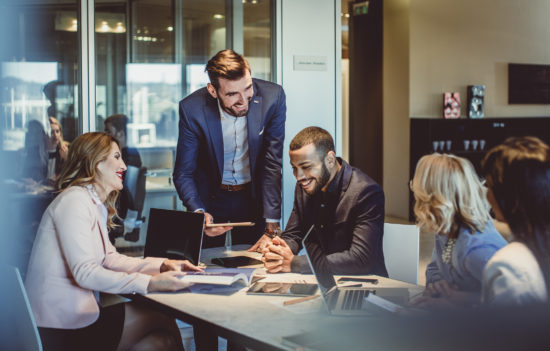 You are enthusiastic about our service portfolio and could imagine becoming part of the Comma Soft family? However, you cannot find a suitable job offer on our website?
We are constantly looking for new top talents! We are seeking employees who are highly motivated and curious to learn about new topics and people, even from outside the field. People with a thirst for knowledge, who acquire and continuously expand it, while constantly questioning the status quo. Doers who create added value to us and our customers. Talented individuals always developing their personal and professional skills. Strong personalities being committed and showing a high level of dedication.
We offer a very diverse and innovative working environment, with exciting topics from a wide range of specialist areas such as IT Infrastructure & IT Security, Artificial Intelligence & Data Analytics and Software Development. We are characterized by our flat hierarchies and the large amount of autonomy we grant our employees in their work. Aiming for excellence, we challenge you to contribute and implement your own ideas in order to innovate.
"If someone tells you "you can't" they're showing you their limits, not yours."
What we offer
Lots of room to act on your own responsibility as well as to develop and implement your own ideas such that you can contribute to shaping your immediate working environment and the company.
Exciting projects in interdisciplinary teams and diverse fields. You actively support our customers in their digitization and data strategy and develop innovative digital solutions for them.
An open and friendly corporate culture with flat hierarchies and nice and helpful colleagues.
Travel time is mostly considered working time, home office, flexible working hours, compensatory time off and state-of-the-art workplaces are a matter of fact for us.
Your Qualifications
You have completed a degree/doctorate in one of the STEM subjects, economics, or a related field with excellent results.
You have a demonstrable high affinity for technology and IT, outstanding analytical skills and are a very open and communicative personality who enjoys working with customers and colleagues.
Ideally, you have already gained some practical experience in the consulting industry through permanent employment, internships or working student activities.
You enjoy working in interdisciplinary teams and are always curious to learn about new technologies and business models. To this end, you bring a willingness to learn and motivation.
You are no stranger to extracurricular activities.
You are willing to travel for immediate customer exchange and your command of German and English, both written and spoken, is very good.
You feel like you would be a good fit for Comma Soft? In that case, we would love to convince you that WE are the right employer for YOU! Feel free to send us your complete application documents, consisting of resume, cover letter, as well as all relevant academic records, starting with your high school diploma. Make use of the form below to do so.
We would be delighted if we could win you as a top talent for our team!