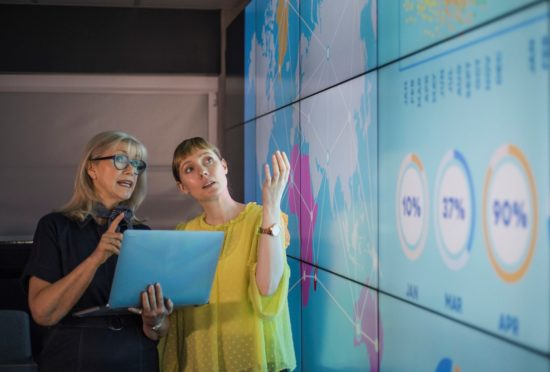 Understanding processes – making better decisions – retaining and winning markets
Decision-making requirements are plentiful – and so is data. However, the best decisions are often only made when data is used.
A production line can run perfectly, with hundreds of sensors displaying a green light. The only problem is that the final inspection indicates an increasing number of rejects. What courses of action can be turned to here in order to counteract such issues with data?
A lot of data is also generated in sales management. Millions of customers nationwide are a reliable and rapid indicator of trends in the market. But how is this knowledge communicated to sales or product development – preferably in real time?
Financial controlling in companies thrives on transparency across many processes and data. Only then can business decisions be made in a reasoned manner. Customized visualizations and real-time processing are of particular relevance here.
This is where INFONEA comes in. The software makes it possible to bring together data from a wide variety of sources easily and quickly. Thanks to in-memory algorithms, even billions of data sets can be discussed interactively in real time. The standard scope of INFONEA includes numerous optimal visualizations for various use cases. In addition, new custom-fit visualizations can be tailored and created in close coordination with little effort in order to show the relevant correlations for a decision-making process.
Furthermore, AI processes and algorithms help with drawing conclusions from the data and can consequently provide targeted tips or even the basis for transferrable decisions. Again, this visualizes what the algorithms have discovered that would justify a decision, as well as aspects where human advice is needed. In this way, complexity and uncertainty can be simplified in the face of large volumes of data and high speed in the market, and even be turned into a competitive advantage:
In production, for example, the possible causes of problems can be identified and visualized out of millions of different possible combinations. In combination with the experience and competence of business users, decision-making becomes more informed, easier and leads to better results.
In sales management, targeted dashboards and (geo)graphical visualizations can make recommendations for action obvious. Helpful extensions for everyday work make the dashboard a daily tool.
In financial controlling, a visually guided drill down to individual postings, lightning-fast changes of perspective, the discovery and highlighting of partially hidden trends and a planning simulation that uses knowledge of the entire scope of financial relationships can provide intensive support for the user. This is how financial controlling becomes business control.