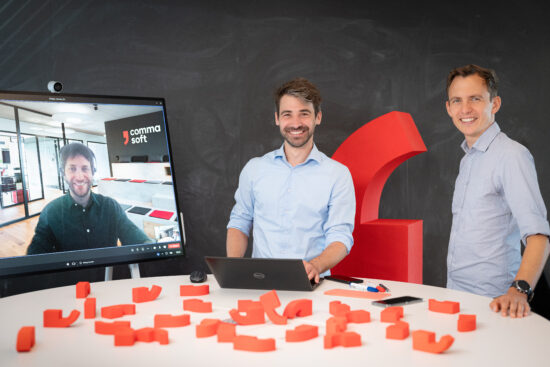 Pragmatic, effective and secure:
Using generative AI in your business
The question many of our customers ask themselves is how they can use ChatGPT and other generative AI solutions in their company in a way that does not violate data protection, compliance or regulatory parameters and that keeps the effort involved to a level that is manageable.
Here at Comma Soft and in our client projects, we have been working across the spectrum of ChatGPT, Microsoft Azure OpenAI API, and open source LLMs for some time now. We have implemented our own GPT-based chat solution to support our internal knowledge management system. This gives us first-hand knowledge of the issues that arise during use:
When is the right time to invest in generative AI?
In which business areas can it be used most efficiently?
How does GenAI specifically help address particular operational and strategic issues?
What about the security of business knowledge and sensitive data?
What level of complexity does operationalization entail?
While we've been working intensively with artificial intelligence for more than ten years, our work with GenAI has also been accompanied by an enormously steep learning curve – which has since even led to a self-engineered data protection-compliant open source LLM that we continue to develop in collaboration with our customers. With our accumulated experience and the solutions we have developed, we would like to share our knowledge with you and support you in the successful, safe and pragmatic introduction of generative AI.
GenAI formats & solutions that have proven themselves in practice:
Ideation workshop
Whether a large mid-sized company or a corporate group: In our ideation workshop, we will work with you to explore the potential and the limitations that your company can expect when using ChatGPT and other generative AI solutions. You will be provided with in-depth background information on the respective technologies and will be able to explore the possible applications in a variety of specialist areas together with us.
The workshop is designed as an interactive platform where we stake out solutions that fit your requirements and that can be pragmatically integrated into your individual business processes.
GenAI implementation
Do you already have an idea of the use cases and processes you want to support with generative AI and intend to use ChatGPT or other LLMs available on the market for this purpose? We support you in the technical implementation and, if you wish, also help you to optimize the solutions and make them usable for further use cases.
Knowledge management with GenAI
One of the strengths of the new, large language models is that they can transform information in a given context and process it to fit a specific problem. A typical use case here would be the processing of internal company knowledge databases.
For example, you can ask generative AI questions directly via chat instead of searching the depths of databases using keyword searches. We support you in implementing this type of knowledge management in your company.
Corporate LLM
The use of solutions such as ChatGPT not only raises the question of what happens to the data that is uploaded there and stored on US servers, for example. It is also often the case that the quality of the language models trained with mostly English prompts and data is questionable.
In order to overcome these hurdles, we are currently working on our own open-source-based llm solution, which we have already deployed in our company. It is hosted in Germany and trained with German data and optimized to our own specific business cases.
At present, we are looking for partners who would like to test our LLM together with us, develop it further (e.g. forther languages) and use it in their own companies. If you are interested, please contact us!
How can we best support you?
During an initial, no-obligation chat, we work with you to map out where you currently stand and assess which next steps make sense for you and your company at this moment in time.
Please contact our LLM task force leader Dr. Valentin Kemper directly.