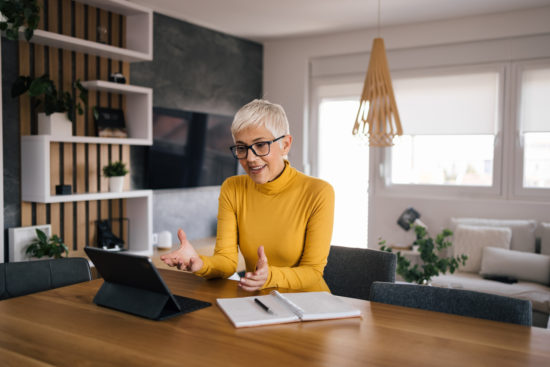 Successful strategies and solutions for remote working
For the majority of employees, working from home has become the norm. Even after the pandemic has passed, the world of work is set to remain mobile: desk sharing, hybrid work models, and working on the go have all demonstrated their advantages. When employees are free to choose their own place of work and working hours, they are more productive and more content, managers can make decisions faster, and the costs associated with office working are reduced. Recent months have revealed the prerequisites that are needed for this. Alongside having a trusting relationship with employees, having the right technical capabilities is essential. But what does that ideal IT infrastructure look like? Just what hardware and software is needed to ensure that mobile working can function smoothly? And last but not least: How do companies implement mobile working concepts pragmatically?
A tailored concept for a modern mobile workplace
Procuring modern mobile devices is just one of the many prerequisites for mobile working. On top of that, employees need fast and secure access to the relevant data from anywhere – in other words, they need an IT infrastructure specifically designed for this purpose. They need collaboration solutions that allow them to work together virtually. And what about processes? They too change with mobile working; they are represented digitally and can be automated and optimized in the process. The speed and ease with which these transitions take place vary depending on a company's level of digitization. Is there a need for an entirely new IT infrastructure with new applications and a newly-thought-out cyber security concept, or would some slight adjustments and enhancements to existing solutions suffice? Which working methods should be retained, which should be redesigned? A field-tested external perspective, a comprehensive analysis of the status quo and clear recommendations for action tailored to the company's requirements will help with all of this.
Introduce and optimize mobile working with Comma Soft:
Comprehensive expertise in digital workplace & collaboration
Precision-fit concepts & solutions through our Teamwork Assessment
Step-by-step implementation of the individual roadmap
Cross-industry knowledge from more than 4,000 projects
Long-standing customers in SMEs & corporate environments
Analysis, consultation, development & implementation from a single source
Integration of business, IT & data strategy
From consultation to go-live with Comma Soft at your side:
Are you interested in learning more about how you can provide your employees with a remote, modern and secure workplace? Please feel free to contact us: