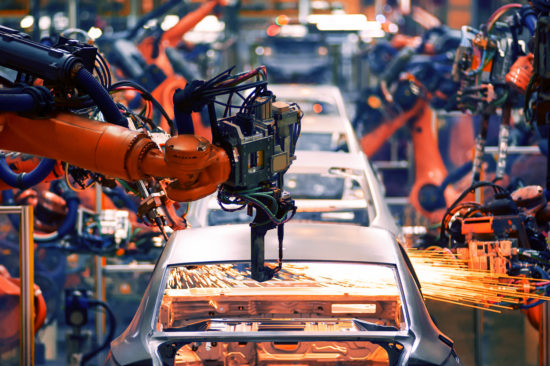 The digital (r)evolution of production: production planning as the basis for greater efficiency and sustainability
Production planning and control is becoming increasingly specialized and complex, and not only in the automotive industry. The increasing number of variants is increasing the complexity of processes along the entire value chain. The planning phase itself becomes a serious bottleneck due to the sheer variety of products. Tight delivery schedules and limited production and storage capacities must always be reconciled, whether it is in the automotive, kitchen or food industry sectors.
For another thing, these more general challenges are currently being compounded by other "trouble spots": most industrial companies are now facing the difficulty of maintaining production despite the energy crisis, fluctuations in orders and supply bottlenecks, while at the same time driving forward the efficiency of processes through digital means. Order and production planning plays a key role here, acting as the link between customer inquiries, procurement, manufacturing and delivery of products. The question is, what will it take for the sustainable digital transformation of production planning and control to succeed?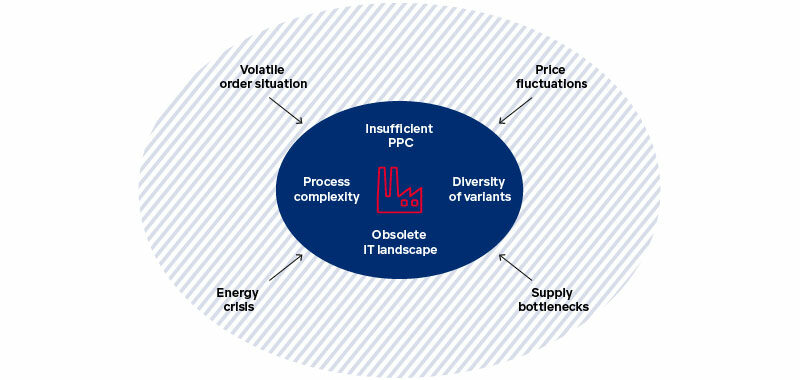 Standard tools are no longer enough for complex planning processes
Electronic support is often already in place in the form of production planning and production control systems (PPC). However, conventional standard planning systems quickly reach their limitations, meaning that tasks cannot always be adjusted and controlled in real time. The various aspects of optimization in multivariant production are only taken into account to a limited extent. These factors ultimately mean that the reduction in workload promised by the system does not materialize and many tasks still have to be performed manually, both within production and in the upstream and downstream stages of the process.
Advantages of AI and data-driven order and production planning
Artificial intelligence (AI), data and automated workflows can be used to optimize order and production planning in a number of ways. This results in numerous advantages, including:
Increased productivity
Better adherence to deadlines
Lower storage requirements
Fewer cover purchases
Better operations scheduling
Minimized overproduction
Transparent work processes
More stable processes overall
More effective employees in planning and production
Simplified compliance with statutory sustainability requirements, e.g., ESG reports
Implementing adaptive manufacturing planning with data and AI
The measures for resolving the above-mentioned areas of tension can be assigned to two groups: either they aim to support existing planning systems by enhancing them with AI and data-driven solutions, or they accelerate the implementation of entirely new, individually designed cases. The direction that needs to be taken will depend on the requirements, strategic goals, and IT and data landscape of the company in question. Instead of a standard approach to analyzing the company, it is therefore advisable to define, conceptualize and implement a tailored approach. Regardless of whether the plan is to expand the PPC systems or to introduce new solutions, there are three questions that any optimization should address:
Status quo: how does the company obtain an overview of the data at its disposal?
Potential analysis: how can order and production planning be made more intelligent?
Cost-benefit analysis: how can more flexibility in controlling be achieved without increasing complexity?
3 levers for increased efficiency and resilience in production planning
Three specific measures can be derived from the above questions, which are interdependent.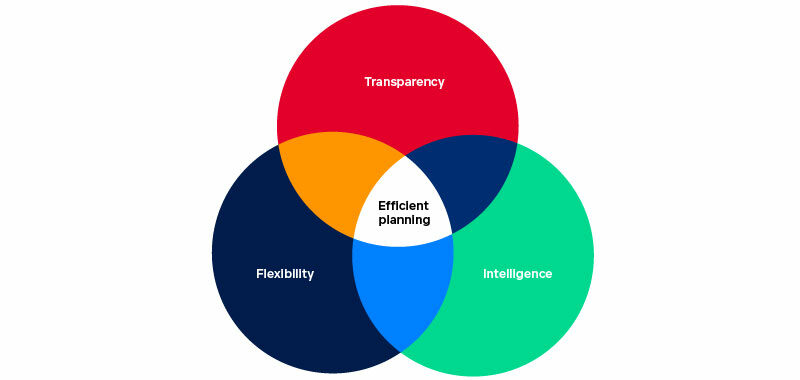 1. Dashboards and data provide transparency
There is often a lack of cross-departmental transparency with regard to sales and raw material requirements. Data from purchasing are not directly accessible to production and vice versa. The flow of information within a company is defined by well-rehearsed procedures, which are based on demand for information and knowledge gained from experience. The technical substructure is more like a patchwork quilt, composed of PPC tools, the panacea "Excel" and the "good old paper economy". All this is not only confusing, but unfortunately also error-prone and not scalable. Short-notice outages can quickly cause delays and incur additional costs.
The first step towards making improvements is therefore to create transparency. Data must be pooled across departments, managed centrally, evaluated, and the results made available for prudent business management. This is useful for more than just controlling. The data are also needed to meet compliance requirements and ESG documentation obligations. Dashboards, which clearly illustrate all the relevant data and serve as a source of information for employees, bring together all the important information and put it into context, from requirements for materials and other means of production, to deliveries and the utilization of personnel and machines, to an overview of the production plan, dates and deadlines. Recommendations derived with the help of AI should also be apparent here in addition to the simple overview of all the available data.
2. AI facilitates valid forecasts and intelligent planning
Sophisticated digitization solutions combined with AI-supported assistance systems analyze planning processes and help to deploy resources as efficiently as possible. Data-driven sales forecasts help stabilize processes, for instance procurement procedures. Algorithms calculate and make suggestions in real time for new procurement, production and sales planning, which are made available directly to employees in production, purchasing, logistics and controlling. This allows production sequences to be optimized in such a way that any adjustments to modified requirements can be taken into account in advance and implemented as and when they occur. By doing so, unnecessary changeover times can be avoided without jeopardizing delivery reliability. A direct data link to ERP and Manufacturing Execution Systems (MES) ensures that even short-term disruptions in the process can be responded to with lightning speed and flexibility. This leads to adaptive planning that thinks for itself and reduces the strain on colleagues.
3. Automated workflows allow for flexible process management
In addition to operations scheduling, demand planning, sequencing and so forth, implementation is often another point at which standard systems can become overloaded. If changes in production, purchasing or personnel planning have to be passed on by e-mail or telephone, time is lost and not all those affected are necessarily informed in good time. A digital solution speeds up communication and ensures that all the relevant employees are notified. This can be done, for example, through workflows that automatically trigger the corresponding steps when changes are made in planning, send updates and reminders, and provide the required data that have been updated in the process. Many such workflows can be implemented using Microsoft 365 on-boarding tools – an application that most companies already use, but have yet to realize its full potential.
From order and production planning to corporate planning
Order and production planning as well as production or manufacturing control are closely linked to other upstream and downstream steps that run through a wide variety of business areas. They affect, among other things, preparation, construction and assembly, purchasing, transport and logistics, as well as personnel planning and invoicing. It therefore makes sense to consider production planning and production processes not in isolation, but in the context of the entire value chain and annual planning.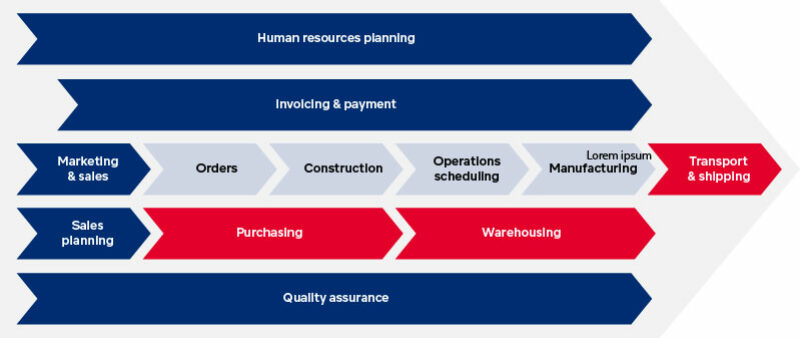 Additional potential then quickly becomes apparent alongside the manufacturing processes. Other processes can be digitized, for example in purchasing, accounting, human resources, and customer service and support, as well as throughout the entire corporate planning process, which takes all of these areas into account. Once the individual areas and processes have been digitized, all the data from them can be used for analyses and forecasts and correlated with one another. For example, the impact that a delayed delivery of materials has on production, sales, warehousing, personnel and distribution activities is made clear. Conversely, this also makes it easier to determine which factors need to be adjusted, for instance if sales forecasts predict a decline in demand from customers.
Gradual optimization and dovetailing of planning and controlling
Digitizing the entire company in the manner described using AI and data-driven solutions is admittedly a complex and longer-term undertaking, but one that ultimately yields a decisive strategic competitive advantage. Moreover, the steps required to achieve this do not all have to be tackled simultaneously. In many cases, a staggered roadmap is more suitable, along which more and more segments are optimized little by little. This keeps costs and workloads manageable and makes it easy to track the achievement of subproject goals using specific milestones.
Optimizing planning & controlling processes with Comma Soft
Are you interested in learning more about how you can digitize and optimize processes using data and AI? Please feel free to contact us: we can assist you in analyzing your unique requirements, identifying suitable solutions, and designing and implementing them. We look forward to hearing from you!