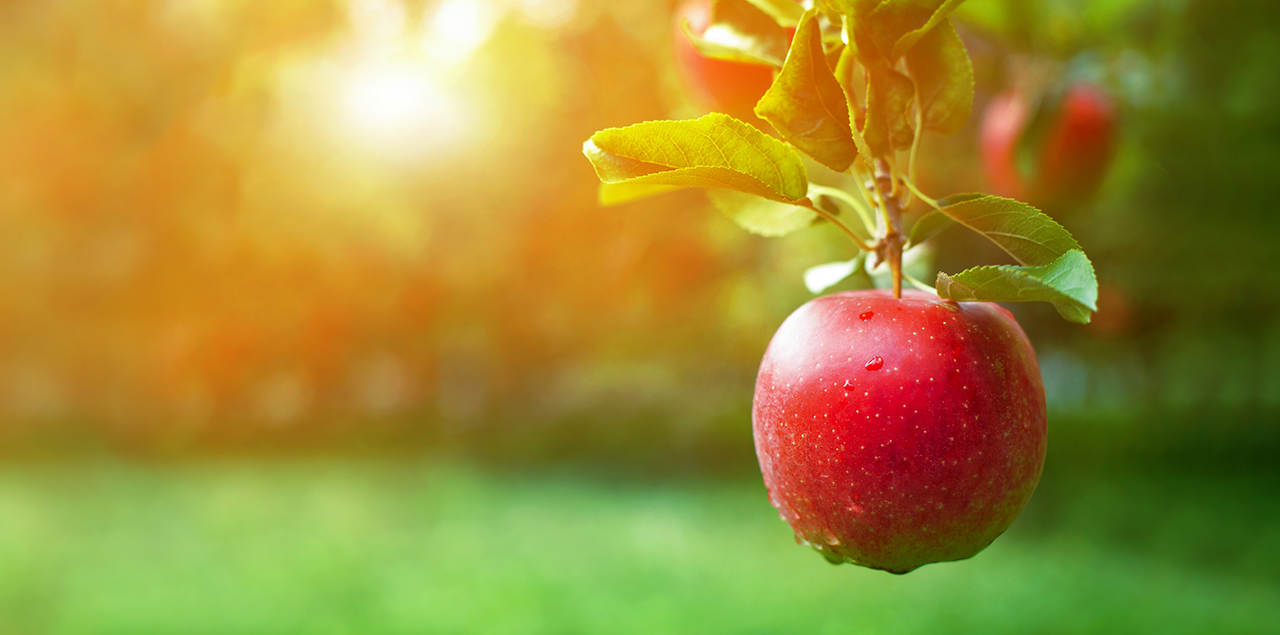 Digital maturity: what level is your company at and how can you reach the next one?
If you know what level your company is at in terms of digitization, it will be easier to derive the steps that will take you to the next level of digitization – and make your company even more competitive. Our maturity model allows you to evaluate your company and gives you invaluable advice on how to reach the next level of digitization.
Every process, every business model, every service and every customer relationship can be enhanced by insights from data – and this is what can make your company competitive in the long term. This requires a business to be digitized, data-driven, and customer-centric. More and more companies are recognizing this and are looking to expand their level of digitization. In order for this to succeed, it is first advisable to assess the current situation. This is because those who know where they currently stand can take the right steps to reach the next level of digitization. In our numerous AI and digitization projects, we repeatedly encounter very specific initial situations in which companies find themselves. Based on these observations, we have developed a maturity model which we would like to present to you here to help you with your self-assessment. You can use it to gauge where your company currently stands and what measures will support reaching the next level.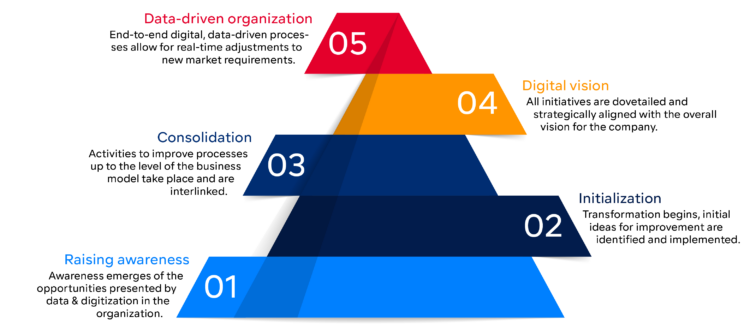 1. Raising awareness
Features:
Awareness of the opportunities that data and digitization offer for an organization's competitive edge is emerging.
Managers and employees see the need to streamline processes and tasks through digitization.
An initial discussion takes place about the opportunities, but also the risks, of new technologies.
The organization becomes more and more aware of the possibilities of using new technologies.
Stepping up to the next level:
Promote the exchanges that have begun about the new technical opportunities and generate enthusiasm about digitization. Potential measures to achieve this include workshops, surveys and internal brainstorming competitions that get your employees involved. The employees' input will show where there is potential for improvement and in which areas the need is most urgent. Specific initial measures can then be derived from this, which will quickly have an effect and thus reinforce the motivation to undertake further projects.
2. Initialization
Features:
Initial actionable ideas for improvements through digital, data-driven technologies have been identified and are being implemented.
In this phase, an initial proof of concepts (PoC) is often carried out, which tests and evaluates whether new technologies can be used in the organization in principle.
Specific fields of application are identified: they range from the initial use of tools such as Microsoft Power Automate to the automation of recurring tasks and the acceleration of processes through the use of artificial intelligence.
The transformation is under way; at the same time, many activities are still isolated from one another and the goals that need to be achieved are rarely interlinked.
Stepping up to the next level:
You can generate even more acceptance and commitment for these initial activities by having management and the board openly support pilot projects. Establishing an appropriate error culture also helps to reduce uncertainty, for instance through an advocated test-and-learn approach to pilot projects. Alongside this, you can launch training courses on digital & data literacy. This enables employees to learn how they can contribute to the success of projects through the correct handling of data. At the same time, they are made more aware and can sharpen their focus for possible further use cases.
3. Consolidation
Features:
The consolidation phase involves comprehensive and continuous optimization activities – in individual processes as well as in the entire business model.
Networking these activities and cross-divisional cooperation along the company's value chain is essential. Instead of evaluating technologies in PoCs in isolation in terms of their usability, MVPs (minimum viable products) are used to achieve added value directly and scale up step by step.
Improvements here are already often thought of from the customer perspective and internal silo thinking is increasingly fading away.
There is a growing need for overarching coordination and consolidation, as well as a new alignment of the corporate vision from a digital perspective.
Stepping up to the next level:
You can actively promote networking within the organization by building and strengthening a digital & data-driven community. Change & adoption formats such as internal in-house trade shows, at which the various departments present their new solutions and exchange ideas, as well as strong internal communication of the (partial) successes that have been achieved and the next steps that need to be taken, lend themselves to this purpose. For these follow-up steps, an integrated – but still pragmatic – digital roadmap for the integration of further use cases is recommended. This roadmap should already be aligned with your organization's value chain and link the company's business goals with the requirements of customers and employees, as well as IT.
4. Digital vision
Features:
The digital vision phase lays the foundation for dovetailing all of a company's initiatives and strategically aligning them with a holistic vision.
Understanding of the potential and applications of new technologies and data is already permeating large parts of the organization and is finding its way into regular activities.
The delivery of digital innovation projects is standardized across the organization and low-threshold.
Within the organization, there is a regular exchange about new technologies, employees share the new corporate vision and actively look for further opportunities for improvement in their day-to-day work.
Stepping up to the next level:
Anchor your compelling vision in the company through appropriate internal communication and create points of identification for all employees. They might, for example, highlight opportunities to get involved and contribute their own ideas, which, if successfully implemented, will be rewarded accordingly, either non-materially or financially. This enables you to involve your employees in the transformation and create acceptance for the continued delivery of your roadmap. In addition to the technical requirements, this also necessitates embedding in the organization, which can be done, for example, by creating new responsibilities for digital transformation.
5. Data-driven organization
Features:
A data-driven organization is characterized by end-to-end digital, data-driven processes and a data-driven business model.
Adapting products and services to new market requirements can be done almost in real time – both technically and organizationally.
Employees across the organization have developed in-depth digital and data skills and are actively contributing to ongoing optimization across all business units.
A continuous dialogue on the technological development of business processes and the business model is a natural and firmly established part of the corporate culture.
How to maintain your level:
Technologies and market requirements are changing. Regularly reviewing and reflecting on the company's level of digitization and strategic orientation is therefore recommended in order to address any necessary adjustments in good time. A strategically positioned innovation management system that monitors both new technologies and the further development of the business model is ideal for this purpose. This kind of innovation and digital culture enables you actively to create space for innovation and further development, continue to expand your technological edge in the market, and consolidate your status as a digital pioneer.
What level is your business at and what steps will help you get to the next level? Feel free to share your thoughts on this with us: We look forward to hearing from you!