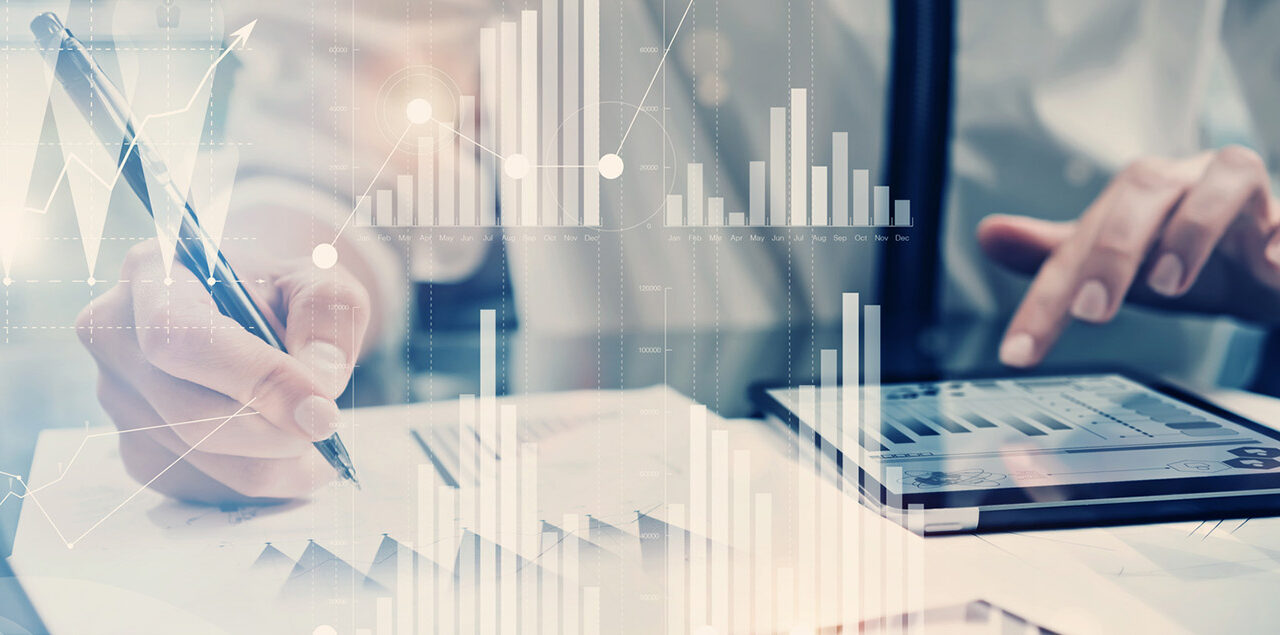 5 reasons why CFOs are turning to autonomous processes
What is behind the trend towards "autonomous processes" and why do more and more CFOs want to implement it using data and AI-driven technologies? Read on to discover what is driving this shift and what potential it can unleash for CFOs.
The word autonomous immediately brings to mind the image of self-driving vehicles: vehicles that no longer need to be driven by humans, that can find their destination on their own, detect obstacles along the way and make the necessary decisions to avoid them in the best possible way. The passengers can do other things without being disturbed during the journey time, e.g., attend meetings or go through the latest quarterly report. Although this goal has not yet been fully accomplished, the technology is visibly developing in this direction.
Why not apply the same principle to business processes? Analyst firms such as Gartner are already talking about autonomous finance processes, and researchers at RWTH Aachen University are specifically investigating how machine learning (ML) and automation can enable self-learning, autonomously acting processes.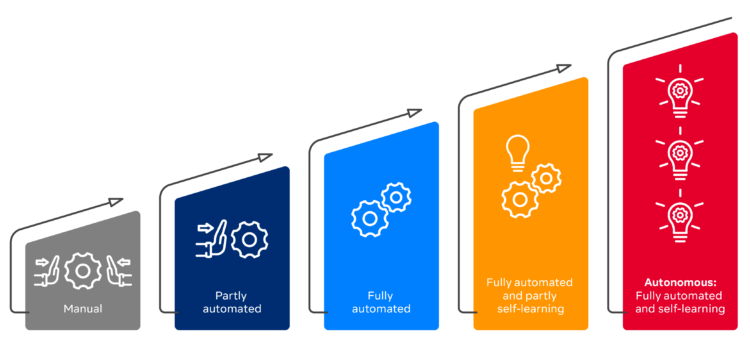 From manual to autonomous: degree of process automation
Autonomous processes go far beyond automated workflows and robotic process automation (RPA), as they not only automate recurring processes, but also make decisions on their own and keep learning more and more. In the event of unforeseen sales fluctuations, for example, they can autonomously make the necessary adjustments to purchasing planning, make recommendations for staffing and open up new sales markets. Such scenarios can already be implemented from a technical point of view using appropriate ML solutions and data. This does not mean that machines should be given absolute decision-making power. Doing so would contradict the fundamentals of digital ethics, especially when it comes to personnel issues, for instance. However, autonomous processes can be used to prepare decisions perfectly within a defined framework – a degree of autonomy is often feasible in corporate planning, forecasting and adjustments to budgets, for example. This results in a number of advantages for CFOs:
1. Autonomous processes free up time for strategic responses
The more volatile economic situation since the pandemic and the Ukraine crisis increases the relevance of a rapid response capability. It must be possible to adjust corporate planning almost in real time, and new markets and business models must be developed quickly in order to maintain a competitive edge. Automated processes already accelerate a lot of these kinds of workflows, but they still require a considerable degree of human control, especially when it comes to decision-making. In autonomous processes, machine learning or AI solutions can take control within defined scenarios and automatically initiate the next steps, such as approvals, risk checking, fraud detection, and more. These sorts of self-learning and autonomous processes mean even less manual effort is required. The error rate and the associated reworking are also reduced, and compliance and risk management can be simplified.
This gives CFOs more time to focus on developing their business unit and the company as a whole, and to finding answers to strategic questions. These answers, in turn, benefit from the insights gained from the data-driven, self-learning processes, which provide a sound basis for making valid decisions.
2. Data provide transparency at every level
Data are essential for corporate planning as well as for planning & controlling in individual departments. Automated, data- and AI-driven processes draw on these data, are conditioned by them and make the resulting insights available where they are needed in the business processes. CFOs can at any time access an up-to-date overview – visualized in dashboards – of the development of, for example, costs, throughput times and resource usage, as well as recommendations on where there is further potential for optimization. This is not only important for subsequent planning, but also shows what potential for development exists for the company as a whole.
Furthermore, ESG matters (Environment, Social & Governance) now require a change in reporting in order to meet the requirements of the EU. Autonomous processes can provide the KPIs for this and at the same time indicate which adjustments should be made in order to achieve tangible improvements.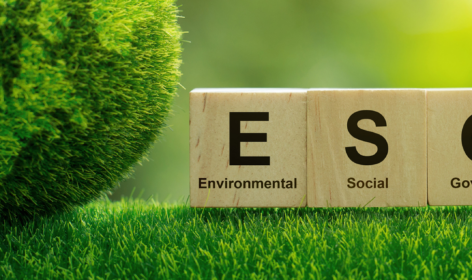 Blog
Is sustainability the answer to surviving crises? Companies are starting to realize this now more than ever
Why are ever more companies focusing on sustainability? What are the drivers behind this trend? Our sustainability specialist and ESG consultant Dr. Michael von Papen […]
3. AI helps to achieve greater planning certainty
Self-learning processes are also of interest when it comes to forecasting. Forecasts for a wide range of scenarios can be generated using data on business performance to date and other external data, for example from supplier portals and market research studies. Predictions can be made for revenue, sales, purchasing, production, personnel requirements and many other areas, ranging from increased demand to declines in sales and seasonal fluctuations, and can be correlated with one another. This allows for flexible management in which the effects on every area of the company are directly taken into account. Precautions such as sales approaches for new target groups, the optimization of inventories and the scaling of specialist applications and licenses within the IT landscape can then be planned at an early stage and implemented quickly if necessary.
4. Autonomous processes strengthen the mentoring role of CFOs
In addition to reporting, CFOs have in-depth knowledge of IT, legal, human resources and purchasing, as well as the ability to manage change processes. If they have a valid database and the necessary data literacy, they also act as mentors for other departments and the rest of the senior management team. As strategic business partners and course setters, they inspire and identify new ways in which the company can develop, dovetailing departments and promoting digital transformation and literacy at all levels. Autonomous processes in the Finance department play a flagship role in this respect: the optimizations achieved here through AI and data can also be transferred to other areas of the company – and CFOs who are already using them have the experiential knowledge to roll them out across the company.
5. Foresight helps with actively shaping the corporate culture
Transparency, strategic foresight, digital transformation: all of these factors influence the way employees work and the culture of a company. CFOs who focus on autonomous processes are actively helping to shape this culture. For instance, employees are relieved of monotonous manual tasks and can work even more independently with the help of data-driven insights and recommendations. This creates scope for everyone to streamline processes further and drive innovations forward – and the data that are evaluated, in addition to the knowledge gained from experience, provide information on what these innovations might be. This is how everything ultimately meshes together.
Do you want to develop your company and achieve greater autonomy in business processes? Feel free to exchange ideas with us. Together, we will find suitable solutions that allow you to make optimal use of your data in processes and gain helpful insights: You can get in touch with us here.