Data-Driven Business Models with Machine Learning Operations (MLOps)
Machine learning operations (MLOps) enables companies to integrate artificial intelligence efficiently into every product and service. Just as DevOps has increased the productivity of software developers, MLOps facilitates faster development and more sustainable operation of ML-based solutions. Why is MLOps important for your data-driven business? And what does MLOps mean in practice?
1. The business models of the future will be data-driven
Every business model, every product, every service can be optimized using insights from data. This optimization determines who prevails in the market. Supported by data, the price and quality of services in particular are improved and products are made more attractive. Competitiveness is strengthened by offering customers solutions and products that are more precisely tailored to their needs.
2.  Machine learning allows for data-driven products and services
Patterns in data detected by machine learning (ML) open the door to a wide range of applications. Services and products that were too labor- or cost-intensive in the past become feasible. Decisions that tie up skilled workers today can be automated with ML techniques for tomorrow, such as recognizing and extracting information about customer concerns. ML can also assist the processing of complex issues by making reference material semantically retrievable. Information that is available in data sets that are impossible for humans to comprehend can be used to make better and faster decisions.
3. Every aspect of data-driven products and services requires ML
To exploit the full potential of enterprise data, ML must intervene in increasingly small-scale decisions and be fully integrated into operational processes. Every decision made by ML brings with it a small increase in efficiency. The result is highly automated and optimized business models. Furthermore, processes and products must be designed to generate usable data and enable versatile use of ML.
4.  Companies must be able to deploy a wide range of ML services
Applying ML to every aspect of a company's products calls for a variety of ML services to be deployed and integrated into all the company's products and processes. Given that these services require professional and technical support, resource bottlenecks can easily occur here. The overhead for any new ML service must be kept low – both during development and once it is up and running. This requires a high degree of standardization and automation, which is often not yet present in the field of ML.
5. MLOps is the paradigm for deploying ML efficiently in a company
MLOps provides the technological and organizational basis for integrating ML into all of a company's products and services. Much as DevOps and Agile have streamlined and accelerated software development, MLOps streamlines and standardizes the development and delivery of ML-based services, enabling the next generation of data-driven business models.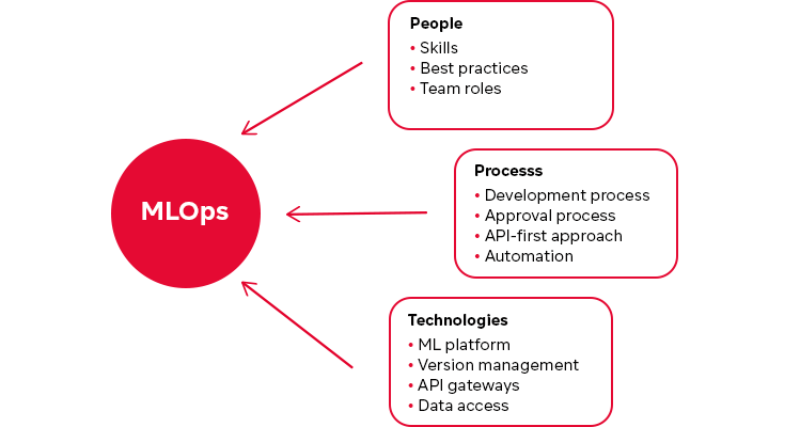 What does MLOps mean in practice?
Small, agile data science teams develop ML services independently on a central ML platform. The ideal solution is interdisciplinary collaboration between data scientist, machine learning engineer and product owner from the relevant department. Standardized interfaces are used to exchange information between the departments. Here, an API-first approach has proven to be the best solution for companies. The data science teams are empowered both technically and procedurally to provide ML services to business units independently.
Once an ML service has gone live, the data science teams retain functional responsibility for the service and have the ability to monitor and develop the services. This can also be done independently of the release cycles of the other applications in the departments. Given that all operational data changes on a regular basis, fast and regular updating of ML models is a key factor for success.
A high degree of automation can minimize the effort required for monitoring and integrating new data. The central platform helps teams implement fully automated processes right from the outset.
Container technologies and version control systems ensure the reproducibility and auditability necessary for reliable operation.
MLOps necessitates change across the board: technologies, processes and people. The multitude of ML platforms and other tools show that the subject of MLOps is often reduced to its purely technological aspects. In practice, this falls short and does not lead to the desired success.
Next steps
Comma Soft brings to the table many years of experience from numerous projects with DAX and large Mittelstand customers and provides support for the planning, design and implementation of ML and MLOps projects.
We guide our customers through the process of assessing current approaches to developing ML services within the company and integrating them into their own products.
Together, we create a bespoke gap analysis that takes into account the individual requirements of each company.
We support the selection of new and the configuration of existing tools for MLOps, and work together with our customers to prepare and conduct training sessions to establish best practices. Acting as a sparring partner during the initial projects with MLOps, we work with IT and relevant departments to design processes that enable the rapid and secure integration of ML into products and services.
Do you want to learn more about how to implement MLOps in your company? Please contact Dr. Lars Flöer.