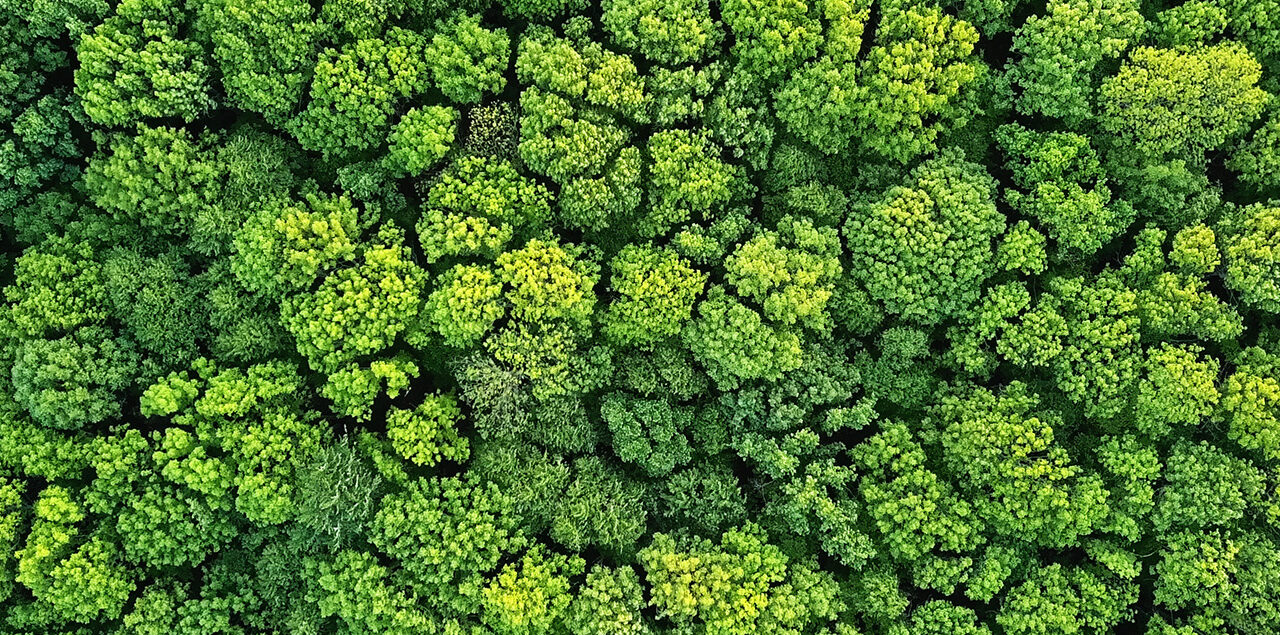 5 digital levers for increased sustainability
Sustainability and digitization are two of the key drivers of our age. However, they continue to pose challenges for companies when it comes to achieving them. Here we will use five examples based on the latest research findings to illustrate how the two concepts can be approached together and the areas in which particular synergies can be achieved.
The German government's target with regard to sustainability and achieving carbon neutrality is to reduce emissions by 65% by 2030 compared with 1990 levels and to achieve carbon neutrality by 2045. If this is to become a reality, companies need to be held more accountable: the German government's Climate Protection Act and the EU's Corporate Sustainability Reporting Directive (CSDR) require extensive ESG reporting and compensation measures. Companies in Germany, many of which are in the process of digitization, face another challenge, namely how best to manage sustainability transformations on top of the ongoing investments in AI, cloud-first and IT security.
In fact, both sets of issues can be considered together and dovetailed. On the one hand, digitization itself can be made sustainable. This includes, for example, technical solutions that are designed in such a way that they can be adapted and modernized flexibly to meet new requirements and are therefore long-lasting. Organizational measures during the digitization process also play a role: if users are included in the process through suitable change concepts, acceptance and motivation to improve digitization measures increases, where innovations might otherwise be rejected and discontinued. Digitization can also make a direct contribution to sustainability. Here we would like to explain how this works using five examples with potential savings based on the results of the Bitkom study "Climate effects of digitization".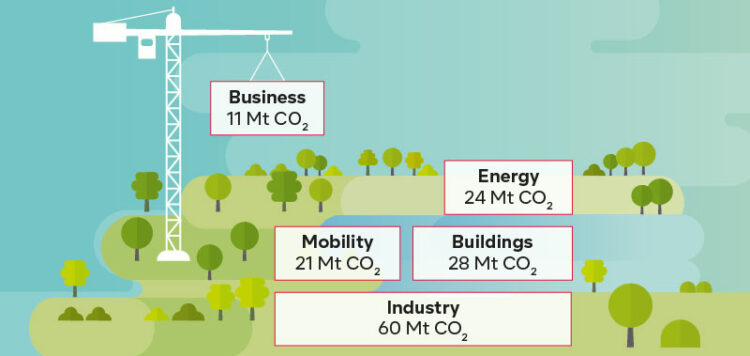 1. Industrial manufacturing
Almost 30% of global CO2 emissions originate in industry, with energy use accounting for the largest share at 24%. This shows how much potential there is in increasing the efficiency of industrial processes. There are two approaches that can be used to achieve such an increase in efficiency:
Intelligent automation
Effective use of digital twins
The Bitkom study suggests that both approaches have a savings potential of over 30  of CO2 each. Automation and optimization of production processes can reduce primary energy consumption by 5-8%. Examples of intelligent automation include the optimization of production processes using AI-based approaches and adaptive order and material planning, each of which conserves resources and energy.
Digital twins of physical products also reduce CO2 emissions by 5-8% through simulation and experimentation in the digital realm. One established application in this respect is optimizing flow behavior and aerodynamics from an engineering perspective. Nowadays, however, it can also be used to model processes and workflows on the factory floor in order to achieve the best possible results.
2. Mobility
According to the German government, the transport sector in Germany accounted for around 146 million metric tons of CO2 in 2020. This amount is intended to drop to 85 million metric tons of CO2 by 2030. Important methods for achieving this include optimizing the use of transport and intelligent logistics, which, according to the study, have a savings potential of 13 Mt and 8 Mt respectively.
Optimization can be achieved here both by efficient routing and by more efficient use of means of transport. One case study that highlights how this can work for public transport is the city of Oslo, where 44% of trips are now made by public transport. This was achieved through consistent digitization: from buying the ticket to free Wi-Fi to real-time information about the transit system. Other approaches include mobility sharing services that encourage people to switch to lower-emission means of transport.
According to the Bitkom study, digitization of the logistics industry offers potential savings of 10-16%. In particular, optimizing freight routes and flows of goods, as well as automated assignment of shipments and drivers based on location proximity, can increase the utilization of delivery vehicles.
3. Energy
The energy industry is currently experiencing a shift towards renewable energies. However, this involves not only a new way of generating energy, but also a need to decentralize energy. This poses a challenge for power grids, because electricity from a large number of small generators now has to be managed intelligently. Smart grids can save up to 17 Mt of CO2 here, while efficiency gains in renewable energy production can save another 7 Mt.
Smart grids respond to the behavior of users and to fluctuating production volumes from renewable energy sources. This can be done, for example, through AI-based forecasting that analyzes real-time data and predicts future network conditions. This alone can reduce power losses by 20-30%. Automated control using intelligent switching and measurement technology can also increase feed-in capacity for renewable energy by up to 17%.
A predictive maintenance approach is ideal for increasing the efficiency of renewable energies. This involves sensors monitoring the condition of a system and predicting failures, workload and damage. This allows spare parts to be ordered in good time and maintenance to be scheduled perfectly, resulting in an overall increase in productivity of up to 6%.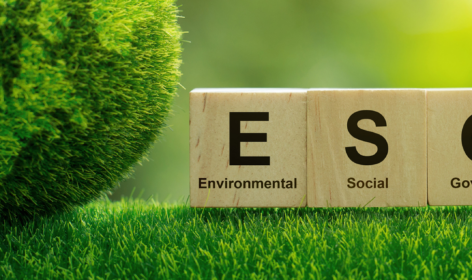 Blog
Is sustainability the answer to surviving crises? Companies are starting to realize this now more than ever
Why are ever more companies focusing on sustainability? What are the drivers behind this trend? Our sustainability specialist and ESG consultant Dr. Michael von Papen […]
4. Buildings
According to Our World in Data, energy use in the building sector is responsible for 17.5% of global greenhouse gases, making it the second largest emitter after manufacturing. Intelligent digitization also offers enormous potential for savings, e.g., 14 Mt through smart homes alone and another 7 Mt through networked buildings, according to a Bitkom study.
Heat generation accounts for most of the energy used in buildings. Here, smart thermostats can bring about a significant reduction of about 10% in energy consumption. Other loads, such as lighting, can also be intelligently coordinated with workload and usage patterns.
Additional savings potentials can be achieved through the consistent use of energy management systems for monitoring, detection and diagnosis. This starts with intelligent meters (smart meters) and also includes automated building control. This can save up to another 7 Mt of CO2 if the digitization process is completed quickly.
5. Work and business
In Germany, around 13 million people commute to work every day – two-thirds of them by car. According to a recent study by the Agora initiative, 22% of transport-related emissions are attributable to commuting. Mobile working could therefore save a lot of these emissions – potentially in the region of 11 Mt of CO2.
However, the important thing here is that IT security must also continue to be guaranteed. If all the key resources are available in the cloud, effective and secure collaboration in the digital workplace is still possible. Emissions from the company's own servers are eliminated and virtual meetings reduce the number of trips to visit business partners. In total, the savings amount to the equivalent of up to 20 million liters of gasoline.
The basis of all these potential savings: transparency
The foundation for digital sustainability is ensuring data transparency in all areas. Only when the sources of emissions have been revealed, levers have been identified, and processes have been made transparent will it be possible to fully exploit the potential for savings in the above-mentioned areas. This is often particularly difficult because most emissions come from upstream and downstream processes (Scope 3). The supply chain and the end-of-life of products are two aspects to be considered in this respect. This approach often leads in the direction of a circular economy, which offers many other potentials for achieving sustainability goals.
Which levers are most relevant for a given company is very much an individual matter. We are happy to assist you in identifying them using a data-driven assessment and in implementing suitable solutions for documenting and reducing emissions. Please get in touch with our ESG Consultant Dr. Michael von Papen to discuss this. You can reach him here.