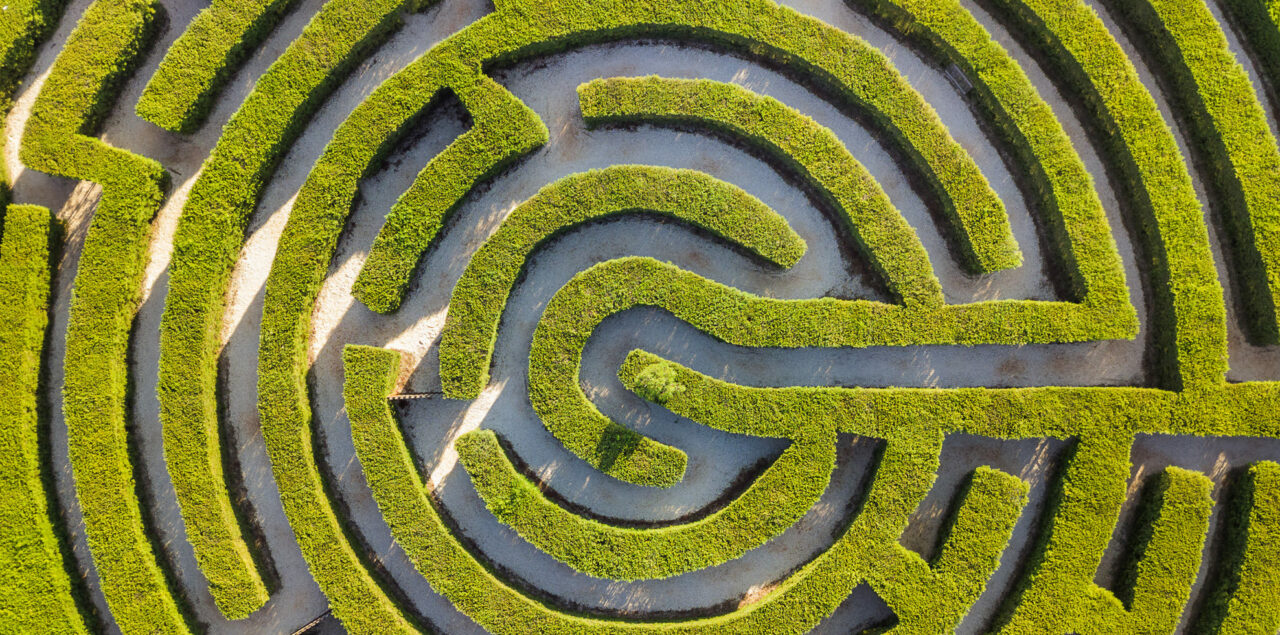 Using complexity as a tool: 3 cases from business
Our world is becoming increasingly complex. Companies are looking for smart solutions that can help reduce this complexity. But is reduction of this kind always the right way to go? Dr. Andrej Fischer illustrates with three examples why complexity should not always be reduced and how it can be purposefully leveraged and utilized in order to retain the ability to act in a complex (business) environment.
The problem of increasing complexity is omnipresent and companies are facing an ever-larger flood of information and data. Today's digital, globalized world allows for an ever-increasing number of choices and variables. As a result, products, regulations, processes and IT landscapes are all growing in complexity.
Everybody knows it: over-complexity creates confusion, renders people incapable of taking action, continuously increases costs – and even leads to greater vulnerability, such as cyberattacks. Various studies have shown that complexity should therefore be reduced whenever possible – this applies, for example, to supply chains, in business life and in relation to cyber security. Finding simple solutions to complex challenges is emerging as the modern-day holy grail!
Instead of fighting complexity as an "unbalanced natural phenomenon", it can be used as an aid.
Admittedly, many a solution that is designed to reduce complexity often creates even more complexity elsewhere. Controlling example: Excel solutions that have developed in the company over the years are replaced by standardized tools in a major transition project. Initially, these are significantly less complex due to their uniformity – but it often turns out over time that they do not cover all the technical requirements. The consequence: they are gradually expanded by new Excel solutions – and in the end, the overall level of complexity is higher than before.
What if, instead of just seeking to reduce complexity, we deployed it consciously and used it as a tool, as an aid? In the following, we will examine three examples of how this conscious development and dismantling of complexity within the corporate context can succeed and take on a tangible form:
Variant management in the automotive sector: Which components do I need?
Vehicles are complex products and highly individual, particularly in the premium segment. The combinations of the diverse functions offered (e.g., cruise control, distance control, but also equipment variations such as sports or leather packages) require a correspondingly large number of variations of the components needed for them. The diversity of variants is complex. Concurrently, new combination options and part variants are created with each new function. This raises the cost of individual production and reduces the number of times each variant is installed.
Many challenges have to be overcome for a future-oriented evaluation of variants. This extends far beyond traditional data analyses such as installation rates and the contribution margins of historical vehicle projects and also encompasses the assessment of the strategic benefits of functions or innovations offered as well as forecasts as to which markets are best served with which variants.
In our projects, we proceed in three steps:
Status quo analysis: Which variants are present and which are needed in which context?
Potential analysis: Where can variants be economized? Where can an existing variant cover multiple functions?
Monitoring: How can the improvements be made and how will their effectiveness be measured and evaluated?
Through targeted tracking and comparison with historical data, it is possible to find forecasts for optimized variant portfolios. For example, a simulation mode can allow detailed planning and develop future products depending on the existing variants and the process steps and costs involved. This will not reduce the complexity. But it does provide the basis for taking all relevant factors into account – something that is essential not least for the use of AI-based methods – and for maintaining the ability to make decisions on the relevant issues.
IT infrastructure into the cloud: yes, or no?
Over time, the complexity associated with traditionally grown IT landscapes becomes apparent as applications and systems become more and more multi-layered. In such cases, a cloud migration can often remedy the situation, as the increasing IT complexity is outsourced from the company's own operations. At the same time, complexity under the surface increases because cloud solutions ultimately involve more companies or solution providers and more services that build on each other. The practical benefit lies in the fact that a company can outsource many specific and costly aspects to external consultants and developers.
In other words, complexity is intentionally increased in order to improve the overall system and make it easier to manage complexity within one's own company. If I find myself in this situation, I confer with my colleagues from IT consulting to determine whether cloud migration can actually provide a remedy and how it can be designed to suit the situation.
As in the first example, we proceed in three steps:
Status quo analysis: What is the current IT infrastructure like?
Potential analysis: What migration options are there and what advantages do they offer?
Monitoring: How can you move to the cloud pragmatically during ongoing operations, how can you continue to run solutions on-premises, and how can you do it in a hybrid way?
Corporate planning and controlling: retaining the ability to act at all times
Controlling is highly complex. There are an immense number of dependencies, internal settlement keys and logics. The planning processes in the company are often detached from this so that people are able to maintain an overview. They have to be done manually, e.g., in sales/revenue planning. This entails a lot of effort and renders it almost impossible to react quickly in the event of unforeseen events, such as a failure to deliver or an increase in demand.
Once the complexity in controlling is reduced, planning can be based directly on it. End-to-end automated processes free of system and media disruptions then become possible, allowing for more up-to-date planning and faster response times. In this case, too, a three-stage approach is recommended:
Status quo analysis: How are controlling and planning currently managed, what concealed knowledge is used? What is the cost-benefit factor of each calculated KPI?
Potential analysis: Which data can be used across the board and which processes can be interlinked?
Monitoring: Which sub-processes are obsolete, which KPIs can be omitted? Which planning statuses must be audit-proof, and how do you react to new information in real time?
With the help of customized BI solutions, AI-based forecasts and flexible tuning options, the company can focus on the really relevant aspects of planning across divisions. This reduces the complexity for each use case to the necessary minimum and allows both the controlling and the business departments to keep on top of things.
Make complexity your ally!
Rather than fighting complexity as some kind of inevitable natural phenomenon, it can be harnessed in a targeted way. Frequently, it is in fact necessary in order to be able to take all relevant aspects of your business models into account. Having the right overview of complex structures and processes and the right tools to control them will help you regain your ability to act. A side benefit is that you may also increase your chances of finding a very simple solution to the complex problem.
Do you have any thoughts or questions about complexity? Feel free to discuss them directly with me and my colleagues: You can get in touch with us here.